About Toronto Extreme Cold Weather Alert
2013-12-16
---
(From gogototo.com)
The City of Toronto issued the 1st extreme cold weather alert today for this year. The alert is in effect until further notice.
When Toronto will issue an Extreme Cold Weather Alart ?
An Extreme Cold Weather Alert is called, typically in the morning, when Environment Canada:

Predicts an overnight temperature of -15 degrees Celsius or lower without wind chill for Toronto, issues a wind chill warning for outdoor activity, and/or
Predicts extreme weather conditions, such as a blizzard, ice storm or sudden drops in temperature.

Additional cold weather services triggered by an alert include:
About detail please read here.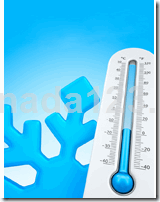 Toronto had a low temperature up to -17°C without wind chill overnight Sunday night, it would be like -23°C with wind chill. So The City of Toronto issued the extreme cold weather alert this morning.
The Toronto government and other related groups will do something in case of this kind of alert, see here.
Here is the statistics on Extreme Cold Weather Alerts in Toronto.